Transporting a "transportable" scooter is pretty easy because they break down into five easy-to-stow pieces. The heaviest piece of most transportable scooters is the front portion- weighing about 35 lbs. Between the trunk and back seat, most transportable scooters can be put into most cars.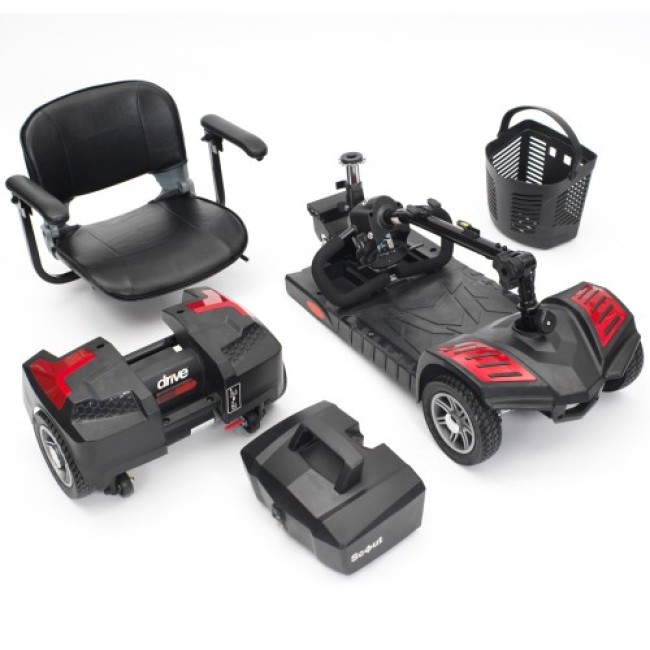 Most transportable scooters break down into five, easy-to-transport pieces.
As always, you'll want to confirm that the owner or someone with them will be able to lift the scooter parts
Transporting standard size and larger scooters
Standard size and larger scooters present unique challenges to transport them to theme parks, sporting events, etc. Even if they come apart, individual components are much heavier. A captain's seat weighs over 50 lbs. 33 AH or larger batteries (scooters have two of them) weigh about 40 lbs each. Even removed and disassembled, individual parts take up a lot of space.
The usual choice is a vehicle lift. There are two styles:
A platform installed on the rear of the car onto which the scooter is driven. After being fastened down, the platform is raised electrically off the ground allowing the owner to drive off.
A boom installed inside the back of a mini-van or SUV. The scooter is placed beneath it and a cable is attached from the boom to the scooter. The scooter is then lifted up and swung into the vehicle.
Boom lift (left) and platform lift (right)
VidaCura does not offer or install either of these lifts. Prices for a platform lift start around $3,000 installed. Brands include Pride Mobility and Harmar. The vehicle must be equipped with or have installed a class II or class III trailer hitch receiver (that square opening on a motor vehicle that you could put a trailer hitch and ball into.
Trailer hitch receiver
Not all vehicles will accommodate this. It is critical that any scooter lift be configured and installed by a certified professional. They'll want to know the model and weight of the scooter and the vehicle make and model. It would be very risky to order and install a vehicle lift as a do-it-yourself project as improper installation can affect the steering and handling of the car ultimately risking the lives of the occupants.
Before purchasing a boom lift, it's important to carefully measure the scooter and the opening in the vehicle to make sure that it will fit.
The customer does not need to purchase their scooter from the same company they get their lift from.