Applies to Drive Medical Scout scooters
The front and rear halves of the Scout series of scooters reassemble very smoothly if you're careful. The parts to be aligned are marked in red and once placed into position and gently pressed down on, will latch easily and firmly.
Occasionally they may be misaligned and then forced, causing the two halves to be jammed. When this happens, it doesn't appear that there's any way to separate them. To separate the halves, you'll need to remove the rear shroud. Once the shroud is removed, there will be adequate clearance for the two halves to separate with ease.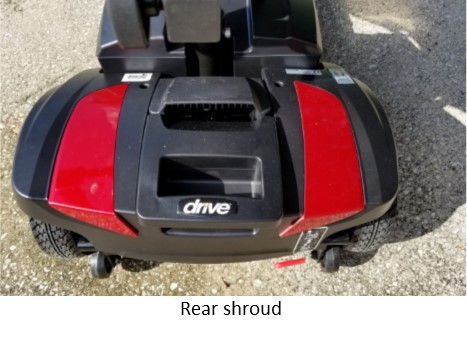 To remove the rear shroud:
Lift the seat off
Lift the battery pack off
Fold the steering tiller down to the deck
Turn the scooter on one side
Remove these screws to release the shroud:
Lift the shroud off
The two halves should now be easily separable.
Replace the shroud and screws.