Applies to Drive Medical Scout scooters
The front and rear halves of the Scout series of scooters reassemble very smoothly if you're careful. The components that make up the two sections are built of extremely strong steel. Assuming forces of 300 lbs or less, the sections and their connector parts cannot be bent, distorted or broken.
The parts to be aligned are marked in red and once placed into position and gently pressed down on, will latch easily and firmly with what is described as a very satisfying "clunk" sound. New Scout scooter owners should practice taking the scooter apart and reassembling it at home and when they're not under a time-pressure such as in the parking lot of a shopping center.
It is possible to jam the sections, however if the two halves are not placed into the correct position before latching. When this happens, it will appear that there's any way to separate them. If you cannot separate or complete assembly, you'll need to do some disassembly to separate the halves by removing the rear plastic shroud or even disassembling the latch mechanism. Once the shroud is removed (and possibly disassembling that latch mechanism), there will be adequate clearance for the two halves to separate with ease.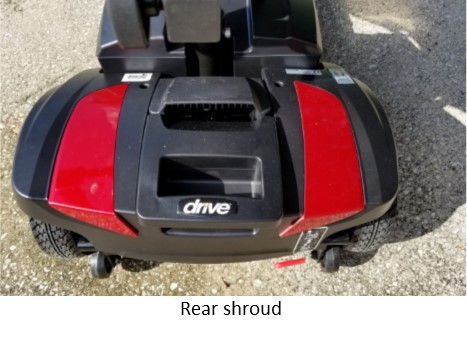 To remove the rear shroud:
Lift the seat off
Lift the battery pack off
Fold the steering tiller down to the deck
Turn the scooter on one side
Remove these screws to release the shroud:
Lift the shroud off
The two halves should now be easily separable.
Replace the shroud and screws.
If the scooter still cannot be disassembled, with the shroud removed, also remove the two opposing screws and nuts holding the plastic latch handle in place. This will allow each side of the latch to operate independently from one another.