Here are the steps to installing and wiring the battery pack used in the Drive Medical Phoenix battery pack. This battery pack can accept standard 18, 20 or 22 ah SLA batteries with bolt-type connection posts.
Once the eight screws fastening the top and bottom halves of the case have been removed, lift the top off. Locate the black jumper with fuse wire and set it aside. Note the smaller black, green and red wires that go from the bottom to top halves of the case. They can become unplugged. If they do, just plug them back in. The two heavier black and red will be connected to the batteries. Here is what the case looks like:
Route the heavy black and red wires along the bottom of the case and then up and out the side, creasing them into the corners. Make sure the black wire runs alongside the raised plastic ridge rather than over it where it could get pinched.
Place the batteries, back to back like this and then place them in the case bottom:
Connect the red wire to the red post and the black wire to the black post using the nuts, bolts and washers included with the batteries. Once connected, bend the metal lugs back so that the wires point to the side of the case instead of the front and back of the case. Lastly, tuck the wires into the space between the batteries and the case wall.
Connect the wires from the fuse jumper to the red and black posts on the other side of the battery. Bend the wire lugs to a 90 degree angle as you did with the others. Then tuck the fuse into the space between the batteries and the case.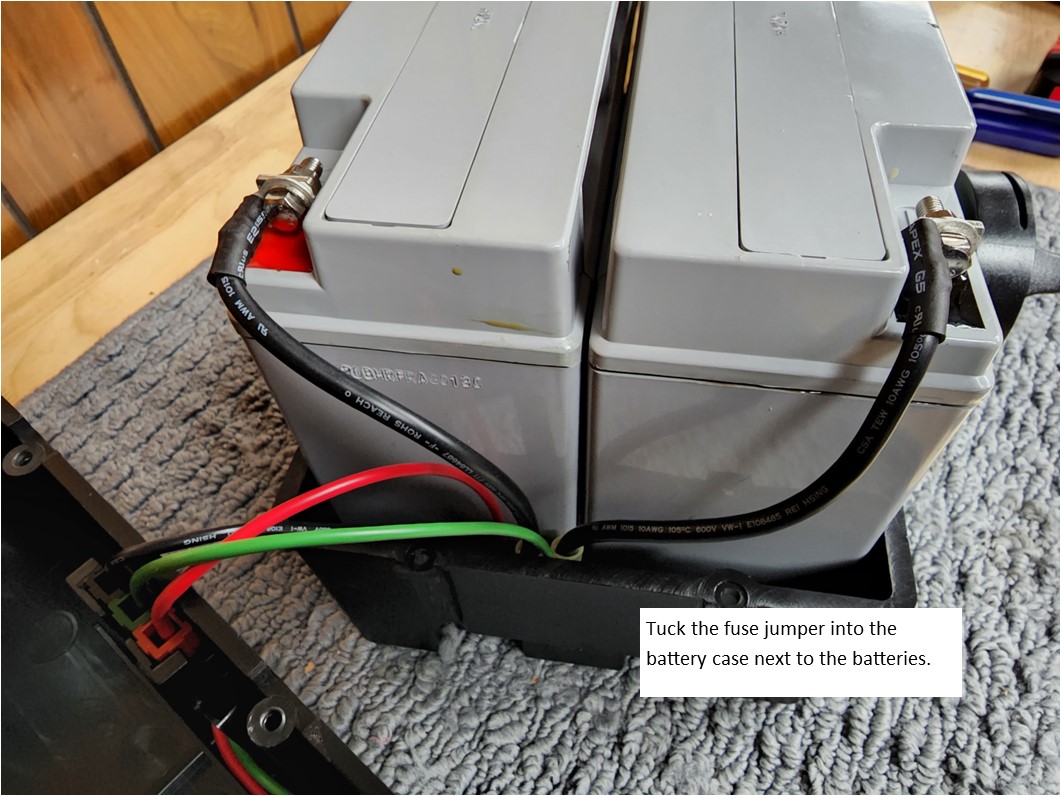 Place the top of the battery case on the bottom making sure to tuck in all the wires so they're not pinched. Then tip the pack on its side and replace two of the screws. Turn pack over and insert the two screws on the opposite side of the case. Lastly, install the four remaining screws.
If you have a voltmeter, you can test the battery pack for proper operation by setting the meter on the proper scale, touching the red probe to the right connector and the black probe on the left one. The reading should be at least 24 volts for new batteries.